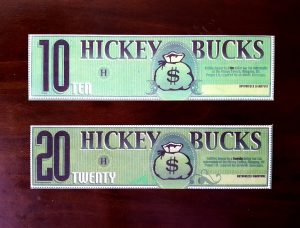 Because of the Corona Virus, COVID-19, the Hickey Tavern has to be closed. We do not sell food, so we are unable to sell liquor, beer, or wine to go, as it must be accompanied with the sale of food. So we are selling "Hickey Bucks" in denominations of ten and/or twenty dollars. Hickey Bucks are redeemable for beer, wine, liquor, or shakers(Khamikazees, Red-headed Sluts, Alien Secretions, Banana Banshees, California Rootbeers, Pineapple Bombers, Washington Apples, and any others we've made for you before). Hickey Bucks are a great gift for any occasion – birthdays, graduation, or alumni weekend celebrations. You may also redeem these vouchers for Hickey tees!

If you will please send your check or money order to:
Lou Ruby
733 Maple Street
Olean, New York 14760

I will send you your very own Hickey Greenbacks!

Thank you for your support,
Lou Ruby
Welcome to Main Street Allegany!
The Hickey Tavern is THE place to go for the best Live Music in Western, NY and Northwestern, PA! Check out our events page for the full scoop on who's playing when as well as all the funner than fun happenings on good 'ol Main St Allegany.
We always welcome all our friends from Saint Bonaventure University to come in, share a drink and a story, and have a good time with us at the Hickey Tavern. Stop in for Happy Hour every Friday evening and enjoy some munchies and cheap drinks.
Bad Beer Wednesday's are always fun at the Hickey Tavern!